Another Beach, Another Shower
30 March 2017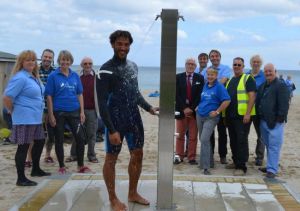 Another of our Apinox Beach Showers installed at Gyllyngvase Beach, Falmouth! - Article courtesy of the Falmouth Packet
Until now beach users in Falmouth have been denied the chance to rinse the salt water and sand off, but thanks to a joint project between several local organisations, the town's first beach shower has been installed at Gyllyngvase.
With showers a common sight on most beaches across the Mediterranean and further afield, it was felt it was time that Falmouth caught up with the trend, but there is also a practical side to introducing the new facility.
Falmouth Town Council's finance officer, Ruth Thomas, said: "Everywhere you go abroad you find showers on beaches, so we wanted to bring a little kudos to Gyllyngvase. However, a second reason was to stop people from washing their feet in the toilets and blocking them up with sand so it (the shower) will keep running costs down too."
The new shower, which has been installed opposite the public toilets, has been funded through donations from the Falmouth Bay Residents Association, Falmouth and District Hotels Association, Falmouth BID, Falmouth Town Council, Cornwall Council members Geoffrey Evans and Alan Jewell and Gylly Beach Café. It was installed by J Brodie Luke. Representatives from all the organisations were present when the shower was switched on for the first time last week when Sean White, of WeSUP paddleboarding, was the first person to stand under the spray.
The shower has sprays for both full body and feet and is free to use by all beach goers.